Use of Ultrapure Water in the Microelectronics Industry
Ultrapure water is a commonly used term in the semiconductor industry to emphasize the fact that the water is treated to the highest levels of purity for all contaminant types, including: organic and inorganic compounds; dissolved and particulate matter; volatile and non-volatile, reactive and inert; hydrophilic and hydrophobic; and dissolved gases.
As the primary cleaning solvent used to rinse all contaminants and remnants of silicon etched away during the production process, Ultrapure Water (UPW) is essential in the fabrication of integrated circuits in the semiconductor and microelectronics industries.
Maintaining a reliable source of UltraPure Water (UPW) is vital to the microelectronics industry. Both semiconductor and microelectronics fabrication facilities require high-grade, ultrapure water as a key raw material throughout their manufacturing processes, whether for wafers, semiconductors, flat panels, photovoltaics or mass storage devices.
As semiconductor and integrated circuit manufacturers require large volumes of ultrapure water to rinse impurities from wafer surfaces, especially during sensitive photolithographic processes on the nanometer scale, a considerable business and environmental expense is incurred when the proper water filtration equipment is not employed or properly maintained.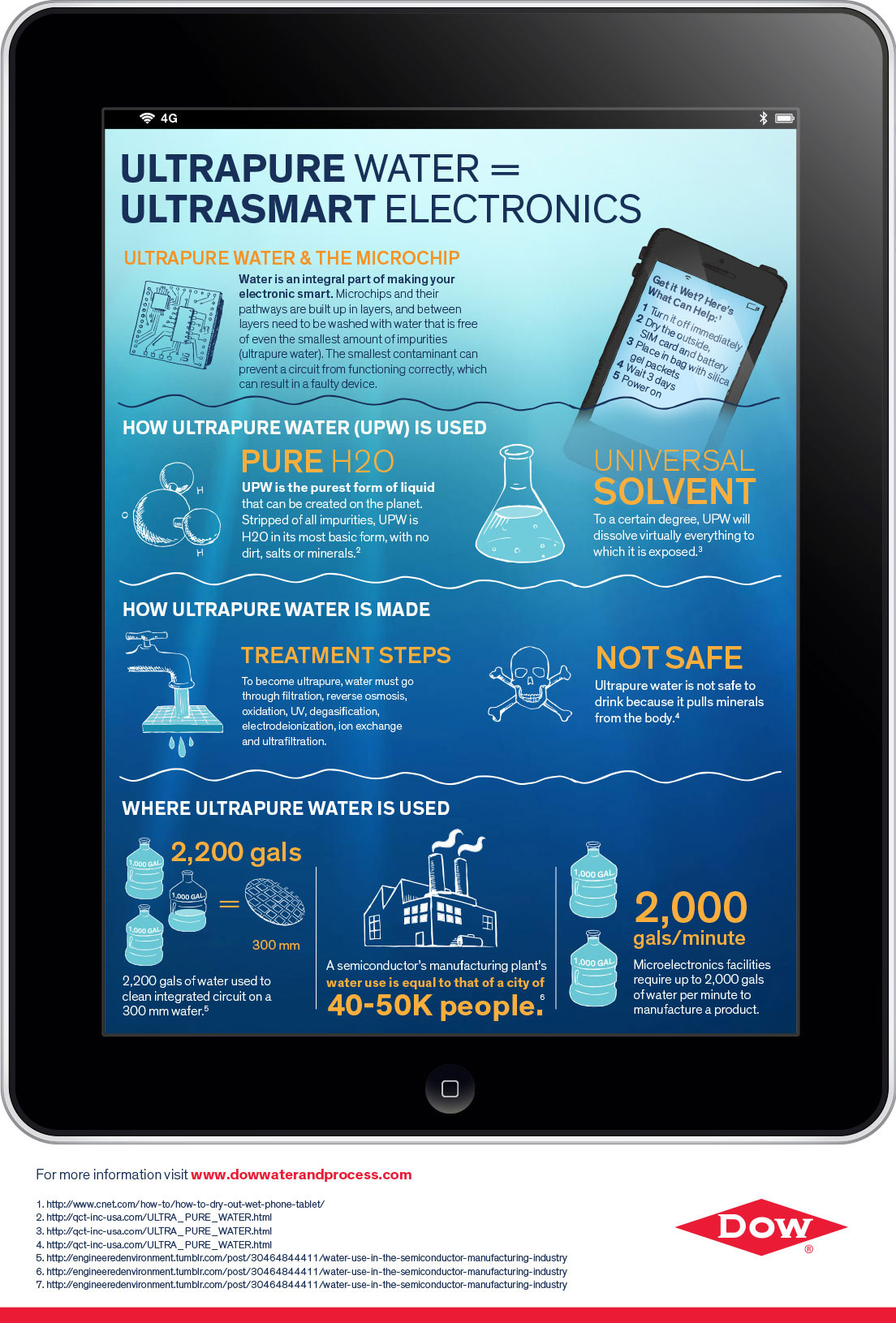 The integrated circuits being produced today are so electron-microscopically minute and incomprehensibly complex that even the smallest contaminant can prevent a circuit from functioning properly. This could be a single spec of dust in the air or an invisible but troublesome element contained within a pool's worth of water.
Realizing that any contaminants decrease the production yield of usable circuits, the semiconductor industry requires much higher levels of water purity in order to maximize profits and reduce wastage on their production lines.
The amount of dissolved ionic solids, organics, live bacillus, suspended particulates and silica must therefore approach zero.
Since a single water treatment process cannot efficiently deliver water at the level of purity required by the semiconductor industry, experience have shown that water treatment solutions which take advantage of the specific capabilities of reverse osmosis (RO), ion exchange (IX) and other technologies are required.
Typically city feed water (containing all the unwanted contaminates previously mentioned) is taken through a series of purification steps that, depending on the quality of UPW wanted, includes gross filtration for large particulates, carbon filtration, water softening, reverse osmosis, exposure to ultraviolet (UV) light for total organic carbon (TOC) and/or bacterial static control, polishing using either ion exchange resins or electrodeionization (EDI) and finally filtration or ultrafiltration.
The ultrafiltration membranes and reverse osmosis elements supplied by Western Industrial as consumables and replacement parts are an ideal combination for producing high-quality, low-cost, reliable water needed to make today's extremely compact semiconductor chips.
Koch Membrane Systems is just one of our suppliers who offers customized high purity membrane systems for the semiconductor industry that swiftly remove contaminants such as colloidal silica, particles, total organic carbon, bacteria, and metal ions.
These membranes are also used for the treatment and recycling of wastewater from wafer washing and mechanical grinding operations.
Our reverse osmosis elements from Dow have been developed for the ultrapure market to meet the requirements of higher overall rejection, higher rejection of lower molecular weight organic compounds and silica, and an accelerated TOC rinse down profile.
DOW UltraFiltration is a water treatment technology with high chemical tolerance and fouling resistance, mechanically strong fibers, and adaptability to a wide range of feed water -- yielding consistent water quality, longer module life, and lower operating and maintenance costs. With its uniform pore size sub-structure that is reinforced with an ultra-fine pore selective layer, DOW™ UF is much more robust and resistant to constant air-scouring and fiber fatigue than most outside-in fibers.
Total Organic Carbon / Total Oxidizable Carbon
Organic carbon, which is measured as total organic carbon (TOC), is one of the many impurities present in water. This impurity is found in water as either particulate organic matter, such as debris of vegetable and animal origin, microorganisms, and oily material, or in the form of soluble organic matter, such as fatty acids, organic acids, and nitrogenous matter (proteins, peptides and amino acids, sugars, dissolved organic gases such as methane, and synthetic organic compounds).
In the manufacture of high density semiconductor devices the defect density (ie. number of bad chips) correlates with the level of TOC in a pure water system so it is imperative to reduce or totally eliminate the TOC impurity in the feed source water system.
As such, the reduction of Total Oxidizable Carbon (TOC) is a primary objective of the microelectronics industry. TOC reduction can be assisted by using a special 185 nm synthetic UV lamp and quartz sleeve to break down low molecular weight organics through the dissociation of molecular bonds and the generation of aggressive hydroxyl radicals from water molecules that break-down organic compounds.